Patricia Hotel, Aneki Housing for Women, Nora Hendrix Place, and building at 566 Powell St. all suffered damage in the Downtown Eastside
A nonprofit housing company in Vancouver says four of its buildings in the Downtown Eastside have been damaged by fires in the past three weeks due to problems related to people charging lithium-ion batteries for electric bicycles.
No injuries were reported in the fires, but in some cases tenants had to be relocated temporarily due to smoke, construction and water damage in the buildings, which are home to low-income residents.
The spate of fires worries Janice Abbott, CEO of Atira Group of Women Serving Services, who said it is the first time the agency has been hit by fires caused by the batteries, which also power scooters and other devices such as cell phones.
"We have a fire every four days in our portfolio, but these four in the past three weeks are the first we know of were caused by lithium-ion batteries," Abbott said, noting that the agency recently banned the batteries from the rooms of the tenants, but acknowledged that the policy is difficult to enforce.
"It's better than doing nothing, but the reality is we probably can't enforce it 100 percent because we won't be searching people's backpacks every time they come in. That would probably be a human rights issue to a point."
'These things just explode'
The most recent fire occurred early Wednesday at an Aneki Housing for Women suite on Powell St. 535, where a guest of the renter was charging an electric bicycle. Staff were seen later in the morning as they removed the charred and twisted bicycle from the building.
Abbott's information from the staff was that the guest did not charge the original or standard battery for the bike, which is consistent with Vancouver Fire Rescue Services' concerns that fires are largely caused by the chargers being modified or batteries being tampered with. their original state.
In June, a man identified by residents as Shayne Charleson died after a lithium-ion battery exploded in his room at the Empress Hotel, near Main and Hastings streets. Charleson fell to his death in the alley below.
Captain Matthew Trudeau, public information officer for Vancouver Fire Rescue Services, said a total of five people have been killed in fires related to the batteries this year. Trudeau didn't have all the locations before the deadline, but said the trend involves firefighters.
"We see this a lot in SROs where people modify these chargers, and then when it gets that wrong voltage, it overheats, shorts out and then these things just explode," Trudeau said, pointing out that firefighters have contacted housing managers about the dangers. of the batteries.
"So people are adjusting the chargers, but we're seeing a high incident where only lithium-ion batteries fail in general as well."
The three other battery-related fires reported by Atira occurred at the Patricia Hotel at 403 East Hastings St., at a small residential complex at 566 Powell St. and at Nora Hendrix's temporary modular residential building at 258 Union St.
The fire at the Patricia was reported late Monday night. Four people were temporarily moved from seven rooms due to damage to the building, where many former residents of the Strathcona homeless camp have lived.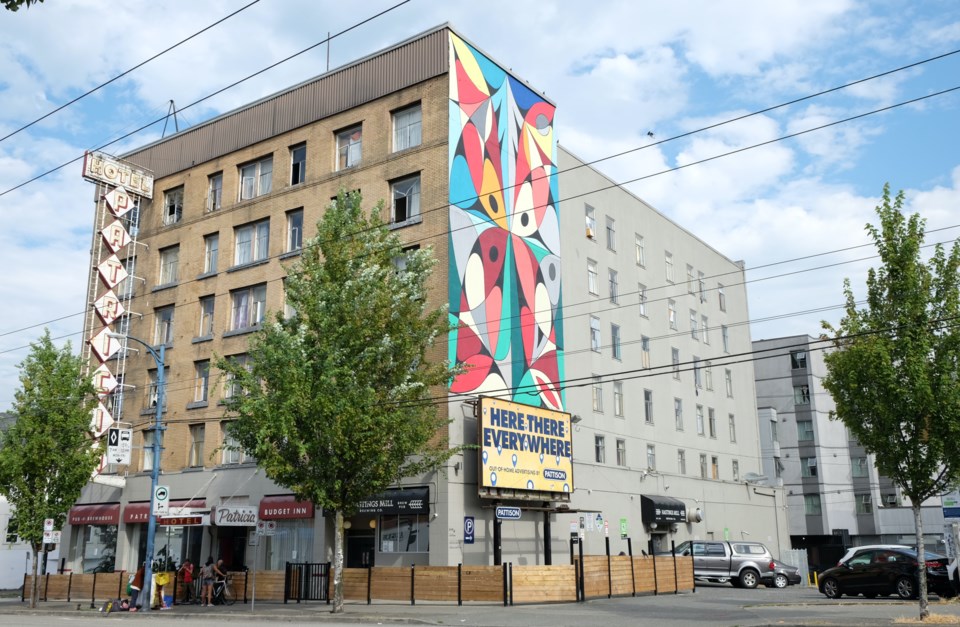 Tenant 'shaken' by fire
In the Aneki fire, the tenant was moved to an empty space in the building until her room could be cleared and found safe to live in. Electricians were at the building on Wednesday to inspect the suite for damage.
Taylor Bawn of Lux Electric said there was minor damage to the area where the bike was charged and to the electrical panel. Water damage, Bawn said, was evident on the floors below the second-floor suite.
"The water tends to get everywhere when they put these things outside," he said from the sidewalk outside the building. "There's a lot of standing water in the hallways and things like that."
Bawn added: "I saw the tenant and she seemed fine. Just a little shaken up because she had to move all her stuff, which got all wet."
Bawn said he and his colleague, Max Chambers, have recently responded to more calls in Vancouver and Surrey of fires caused by lithium-ion batteries, mainly in modular homes and single-bedroom buildings.
"I'd say mostly because of scooters and bikes," Bawn said. "I don't know if it's the batteries that get so hot that they melt the charger and then light the fire, or what's going on. But yes, it's definitely these [electric] bicycles and scooters that are the cause."
The shift in recent years towards people using electric bicycles and scooters is noticeable all over Vancouver, especially along bike routes. Chambers noted that he had just bought an electric scooter, but said he wasn't worried about it exploding or catching fire.
"It's a top-notch Segway Ninebot and Segway has been around for a long time, and I trust their company and hopefully my apartment won't burn down," he said.
198 SRO fires in Vancouver this year
Abbott said its employees have been investigating whether steel boxes would be available to charge batteries, noting that bicycles and scooters are a means of transportation for some renters.
She also suggested that the city of Vancouver provide secure parking for electric bicycles and scooters, especially in old, busy, wood-built one-room buildings; Vancouver Fire Rescue Services says there have been 198 fires at SROs this year, although no data was available on the number related to batteries.
In the meantime, all Atira buildings have put up large fire brigade posters warning of the dangers associated with the batteries, including warning people to be sure to use the battery designed for the device and not to modify the battery.
@Howellings