eager beavers
Shaad D'Souza
Our Shaad D'Souza has been to the front of the Pyramid stage, questioning the early birds about who they are waiting for and why.
Lauren, 17, and Sarah, 40
Sarah: I'm here to let them all be honest, but especially Sam Fender. I think he's brilliant, love his music. This is our third time here but our first time up front. We usually come with people who are claustrophobic so we are usually on the hill but [Lauren] is now at an age where we can get up close.
Lauren: I've seen Billie before, but I love her so much. I also like Wolf Alice, so I'm very excited to see them.
Ash, 26, and Joe, 28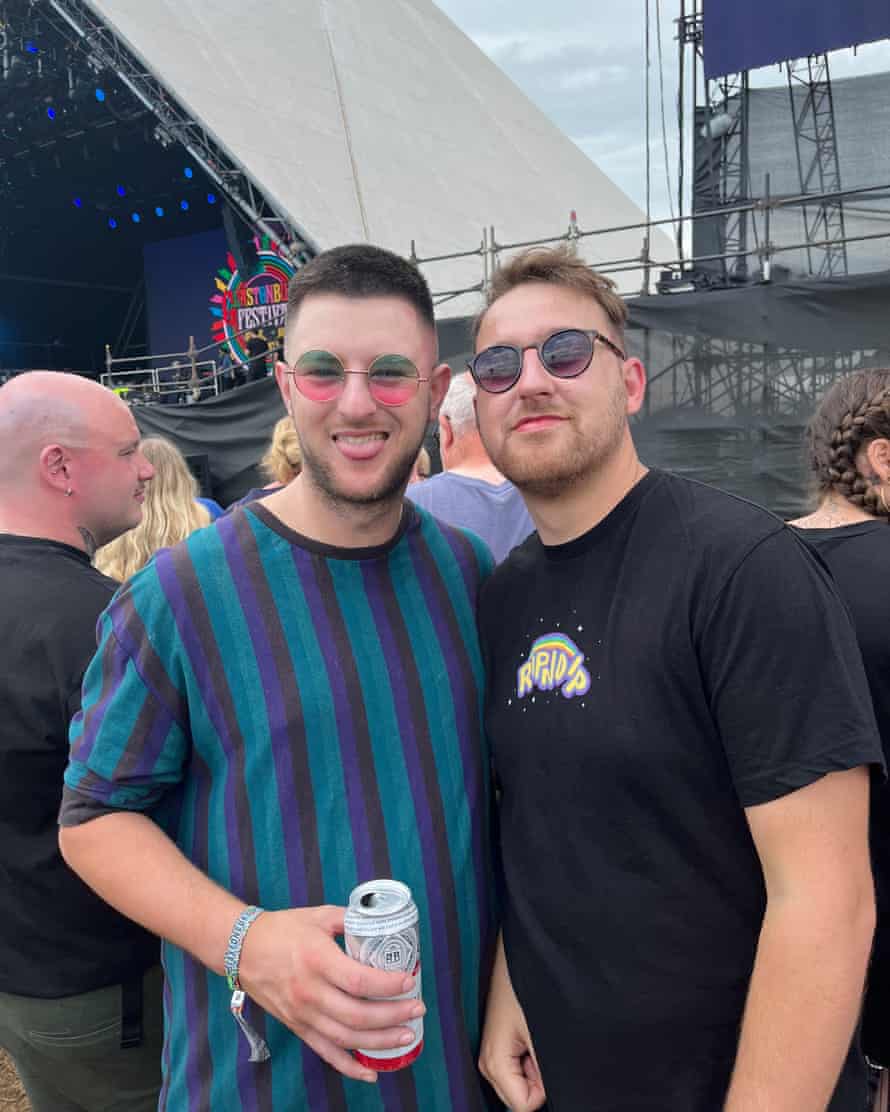 Ash: I'm excited to see pretty much everyone, but especially Billie – we've seen her once before and it's been our tradition ever since. We survive here all day with alcohol – drinking all day, sleeping all night.
Joe: I'm most excited to see Crowded House. It's kinda seventies, eighties, and it's just good music.
Pete Doherty just started singing "Volodymyr Zelensky," which the audience hailed and cheered, reports Sophie Zeldin-O'Neill.
We're keeping our fingers crossed that Wolf Alice makes it to their 4:45pm slot on the Pyramid stage – they're stranded in the US and are in the process of assembling flights to get to the festival on time.
'Russia stole our peace': Volodymyr Zelenskiy speaks
Sophie Zeldin-O'Neill
Ukrainian President Volodymyr Zelenskiy addressed the crowd at Glastonbury and spoke via video link before the Libertines opened the Other stage.
The pandemic has put the lives of a million people around the world on hold. We in Ukraine also like to live the life we ​​enjoy in freedom. We can't do that, because the most terrible thing has happened. Russia has stolen our peace. But we won't let Russia's terrible war break us…

That's why I turn to you for support. Glastonbury is the greatest concentration of freedom – and I ask you to share this feeling with anyone whose freedom is under attack. Spread the truth. Help Ukrainians forced to flee their homes because of this war. Find our United24 charity platform and put pressure on all the politicians you know to help restore peace in Ukraine. Time is precious and every day is measured in human lives. The more people join us in defending freedom and truth, the sooner Russia's war against Ukraine will end. Proof that freedom always wins. Thank you.
Welcome to the Guardian Glastonbury Live Blog!
It's been three long years since we were last at Worthy Farm, but Glastonbury is finally back and the Guardian is here to cover the whole weekend. We're blogging every day from noon to midnight, bringing you reviews of all the biggest and best acts, plus tons of photography, chatting with Glasto gamblers and more. Join us!