The City of Ottawa says the closure is expected to result in "significant traffic impacts."
Article content
A portion of Highway 417 will close Thursday night and will remain closed until Monday morning as construction crews replace the bridge over Booth Street.
Article content
The City of Ottawa says the closure is expected to result in "significant traffic impacts."
Highway 417 will be completely closed in both directions between Metcalfe Street and Kirkwood Avenue starting Thursday, Aug. 11 at 8 p.m. The section of the highway will reopen on Monday, August 15 at 6 a.m.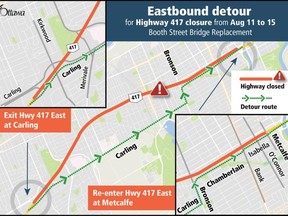 The lane reductions and driveway closures will begin at 7 p.m. Thursday and the full closure an hour later.
The construction project also requires some municipal road closures. Amongst them:
• Booth Street will be closed between Daniel McCann Street and Arlington Street until August 25.
• Raymond Street will be closed between Lebreton Street North and Rochester Street. The segment between Booth Street and Rochester Street will not reopen until October 30.
• Rochester Street will be closed between Gladstone Avenue and Aberdeen Street from 6:00 pm on August 11th to 6:00 am on August 15th.
During the closure, there will be traffic diversions on Highway 417 east and west.
More details are available on the City of Ottawa's website.