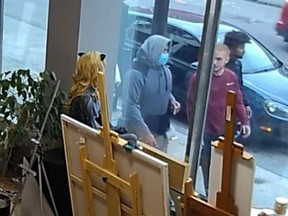 Article content
Kingston police detectives are looking for a man they suspect in the murders of two men from Ottawa last October.
Article content
Carl-Alen Delphin, 20, and Nico Soubliere, 29, arrived in Kingston early October 16 to attend the Homecoming festivities in the university district. They were spotted by surveillance cameras in the crowds and interacting with people there.
At about 7pm that evening, emergency services were called to the K&P Trail parking lot off Sydenham Road off Highway 401 by a passerby who found the two men shot. Delphin, aka the talented rapper Lito, was dead and Soubliere was taken to Kingston General Hospital, where he died a few days later.
det. Joel Fisher said in a statement Tuesday that they now know that Delphin and Soubliere were in the parking lot conducting a "drug transaction" between them and the suspect.
Article content
Surveillance footage shows the man being overdressed and police say he likely tried to hide his identity. Police believe the man has the street name "Sophia", but does not know his first name.
They first released a photo of the man on June 22, asking if anyone had been in contact with him. At the time, police suspected he was not from Kingston.
Delphin was known as Lito, a rapper from South Ottawa with a promising future in the music industry. His death devastated his girlfriend Marli Diallo and left his parents and four younger siblings with unimaginable grief.
"He was a really loving person," Diallo said in October. "He loved his friends and his family and his mother so much. He was talented. He had good music. He was so, so good at it. He loved it so much. He had an insane love for children. He was great with them. He was such a loyal person. He did anything and everything for the people he loved."
Article content
As Lito, Delphin sang about his desire for money and respect. His songs mentioned clashes with the police and other groups of young men, but they also contain references to his family and loved ones. Loyalty has been a persistent theme in his music, culminating in his most popular song, Don't Care, which was released in 2019.
Don't Care was heard by 300,000 people on YouTube alone and gave Lito his first real taste of success.
"He was so proud," Diallo said. "He was so happy. I remember he had a few celebrities here and there reaching out to him and they told him it was okay and he should keep going. I know that meant so much to him."
Any information regarding the investigation or the man's identity can be provided to Fisher at [email protected] or 613-549-4660, extension. 6338, or Sgt. Chad Parslow at [email protected] or 613-549-4660, extension. 6245.
—