A man who allegedly used a gun to kill a
aldic
supermarket in
Melbourne
The Southeast has been on the run for almost two years.
The 27-year-old supermarket worker who was allegedly held at gunpoint by the criminal disguised as a customer, says it is disturbing that the man was still out in public.
Police are enlisting the public's help in tracking him down after releasing photos and CCTV footage of him just before the robbery.
The man hung out at the supermarket on Frankston-Dandenong Road in Carrum Downs before leaving the store around 12:30pm on Tuesday, September 15, 2020.
He was then outside the store when he approached a staff member while allegedly holding a gun.
The man followed the worker to the cash register, where the worker filled the bag with money.
"I didn't look behind me because I knew he had the gun to my back," the worker said.
"I looked at the gun and was a bit panicked, my body went on autopilot.
"He was quite calm and basically about everything he seemed to know exactly what he was doing."
The man then ran out of the store with the money.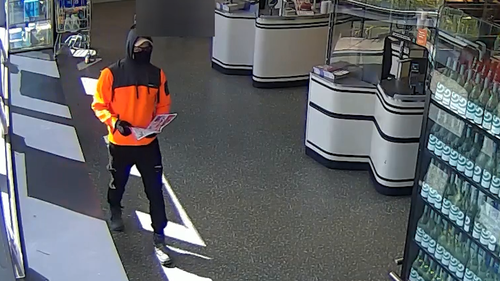 The man looked Caucasian, was in his twenties and wore a black facemask and an orange high-vis top.
Anyone with information or witnesses is asked to contact the police.