TEXARKANA, Texas – As lawmakers continue to debate gun control in the United States, one area of ​​focus is improving access to mental health care.
Recent data from the Bureau of Alcohol, Tobacco and Firearms shows that Texas has significantly more gun dealers than mental health providers.
Bowie County also has more gun dealers than mental health providers. There are approximately 50 gun stores and licensed firearms dealers in the Texarkana area.
While there are some mental health services in Texarkana, community health leaders say there is an urgent need for more.
"In our healthcare catchment area, mental health providers are very limited. The need is great," said Heather McKnight, director of nursing at Texas A&M University Texarkana.
The number of mental health providers in Bowie County is over 1,100 to one. In Miller County, Arkansas, it's 470 to one.
There is only one hospital in Texarkana. McKnight says it has limited resources and limited beds.
"With the lack of mental health providers. We have a problem with access to care. We don't have enough providers to meet the needs, but there are also health insurance problems with huge differences in the way health insurance pays for mental health needs," McKnight said.
A recently published Community Health Needs Assessment study by CHRIST St. Michael Health System shows that the No. 1 health issue in Texarkana is mental health.
McKnight says psychiatric patients in Texarkana usually spend two to three hours on the road for treatment.
"We isolate them from their friends and family, which only exacerbates their problems. So it would be optimal to bring the treatment facilities closer to serve our region," McKnight said.
The university recently received a $3 million grant to implement social work programs.
McKnight says there is work available for psychiatric nurses, licensed social workers, mental health counselors and more.
"The vacancies are endless. We just don't have enough people to fill the need," explains McKnight.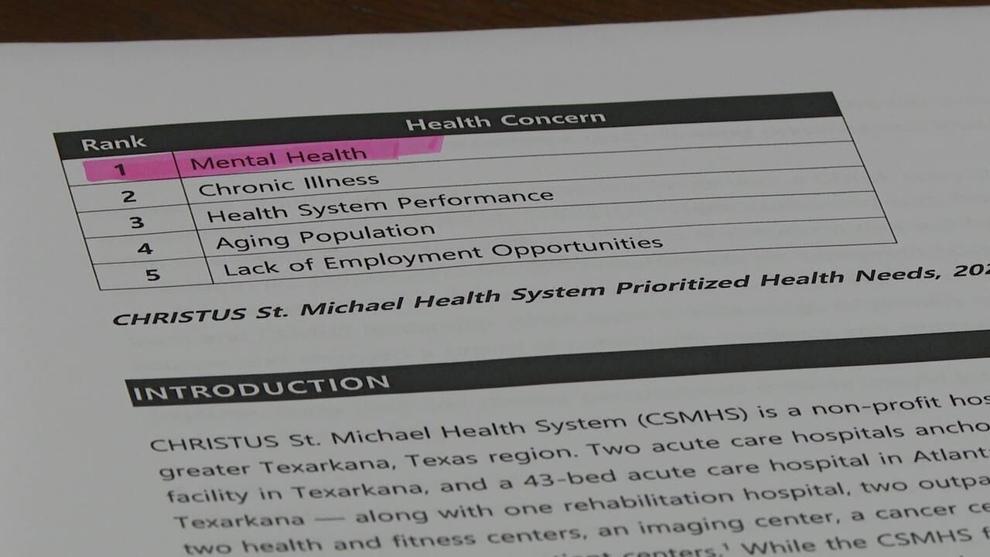 Jennifer Turner, an associate professor of social work at Texas A&M Texarkana, says she has about 45 students in the new program. She doesn't have to search for caregivers who need placements; they come to her.
"We have a lot of good organizations that we work with, but they don't have the bodies to fill those positions and meet the needs of the community," Turner said.
When law enforcement officers encounter people suffering from serious mental health problems, the patient is often sent to a local hospital.
"There are some community providers who go to the hospital and give assessments, but then they have to go to other places to get the care they need," Turner said.
In June, President Joe Biden signed the first gun safety law passed by Congress in nearly 30 years. The bill includes money for mental health care.
U.S. Senator John Boozman of Arkansas was one of the Republican senators who voted against the legislation. He says one of the common denominators of mass shooters is that they often plan the deadly attack months in advance.
"They leave all kinds of warnings. In fact, most of them blatantly say we're going to do this. So we really need to hone mental health, and if someone makes such threats, they should be prosecuted," Boozman said.
—–
For more information about the social work programs at Texas A&M Texarkana, visit tamut.edu.