†
A tornado warning previously issued for Foam Lake's RM, including Foam Lake and Fishing Lake Res., SK, has ended.
Dynamics favor severe thunderstorms in southern Saskatchewan, southern Manitoba, and northwestern Ontario. This threat includes Saskatoon, Regina, and Winnipeg.
The strongest thunderstorms that form can produce very large hail — the size of golf balls or larger — along with a risk of strong gusts of wind and heavy rainfall. Tornadoes are also possible.
Tornado watches have been issued for Kamsack – Canora – Preeceville and Yorkton – Melville – Esterhazy in Saskatchewan.
In Manitoba, tornado watches have been issued for Dauphin – Russell – Roblin – Winnipegosis and Swan River – Duck Mountain – Porcupine Provincial Forest.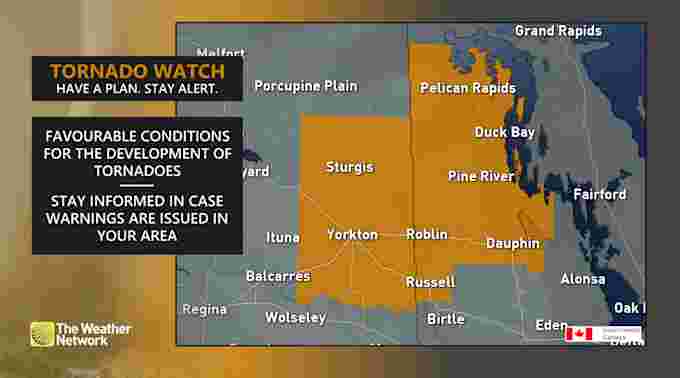 Stay alert for severe weather and Wednesday warnings. Heavy thunderstorms at night are especially dangerous.
†
LONG WEEKEND: COOL CANADA DAY, SEASON THIS WEEKEND
Things are looking much calmer as we look ahead to the long weekend.
Cooler conditions behind this latest storm system will bring under-season temperatures to the region on Canada Day. People in southern Manitoba are sure to feel the relative cold, with temperatures hovering around 20°C all weekend – a few degrees below season.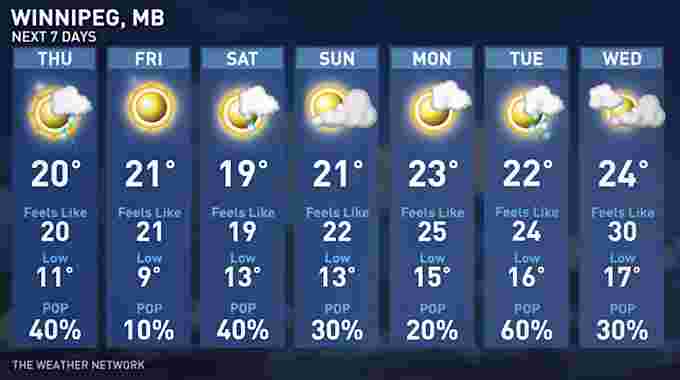 We'll see a warm-up heading into the first full week of July. Daytime peaks across the region will reach mid to 20s for most of the next week, which is warm but certainly not excessive for this point in summer.
Scattered showers and thunderstorms are possible across the Prairies from this weekend through next week, with the highest chance of some pop-up precipitation falling over Alberta on Sunday and Monday.
Check back for the latest on conditions in the Prairies.