Hilary Mantel's Learn to talkEd Yong's An immense worldand Riley Sager's The house across the lake they are all among the top-rated books of the week.
Brought to you by Book Marks, "Rotten Tomatoes for books" by Lit Hub.
†
Fiction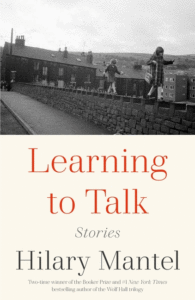 1. Learn to talk by Hilary Mantel
(Henry Holt & Company)
7 Rave
"Hilary Mantel's Short Story Collection" Learn to talk was first published in the UK in 2003, before much anticipated awards and international fame came its way. It shares the qualities of the contemporary novels she wrote for twenty years: keen observation, alertness to the madness of class and gender, an uncanny ability to the eye of the child, a door always open to the supernatural. And like Mantel's most famous books, these stories are dark and absurd, the whistling children's voices brewed in wisdom and worldliness… an exemplary use of the passive voice… In this more or less autobiographical span of the 1960s and 1970s, Mantel remains a historical novelist , that is, one who is always thinking about how politics, trends and events shape character, one who knows in every sense that the political is personal and vice versa, one who inhabits bodies shaped by the specificities of time and place. Part of her consistent brilliance lies in her attention to ghosts and mortgages, the light on the moors and 1980s education policies, adolescent self-discovery, and erratic accounting. These stories contain worlds as broad as those of her longest novels."
—Sarah Moss †The New York Times Book Review†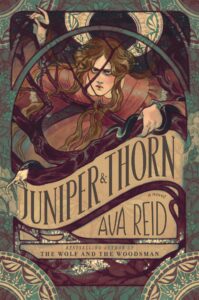 2. Juniper & Thorn by Ava Reid
(Harper Voyager)
4 Rave
".. in many ways, [Reid's] second novel surpasses her first… Marlinchen's journey is not an easy one. She's also not always a particularly easy heroine to love. Her passivity to her father's vile and repeated cruelty sometimes makes my stomach turn, as does her seemingly boundless willingness to forgive him, which is occasionally attributed in the story to the power of his magic, but I think that's actually more, all the more devastating if we assume it's simply because abuse is a cycle… A fairy tale that reads much more like a warning label than a Disney fantasy, Juniper and Thorn is a pitch-black tale of trauma, abuse and survival, set in a world teeming with literal monsters and monstrous men. And yet Marlinchen's story isn't hopeless or unhappy in the end, despite the setting being grim and the pages full of death: at the end of the day, the long-suffering daughter still triumphs, though she must accept and embrace even the worst parts. of itself to do this. (And wear scars that will never fully heal.) It's a non-traditional happy ending, but maybe that's why it feels so good."
—Lacy Baugher Milas †To stick†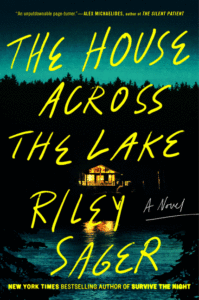 3. The house across the lake by Riley Sager
(Dutton)
2 Rave • 3 Positive • 1 Mixed
"Sager balances the novel's short timeline and limited setting with a rich characterization for everyone, especially Katherine, who encounters the reader as she nearly drowns in the dark, icy lake, and Casey, whose never-ending supply of snarky one-liners and jokes never ends. quite camouflages the deep emotional turmoil that ended her once successful acting career…The house across the lake is a personality-driven psychological thriller that follows women whose motives, resources and opportunities are as darkly fascinating as the titular lake… An addictive beach read that fans will devour in one sitting – and leave with a satiated feeling. '
—Lauren Emily Whalen †Book page†
†
Non-fiction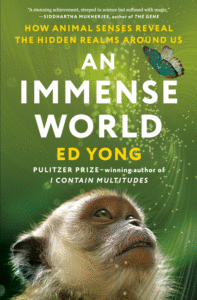 1. An immense world: how animal senses reveal the hidden realms around us by Ed Yong
(Any house)
9 Rave
Listen to an interview with Ed Yong here
"That I surprised myself on so many moments while reading an immense world, Ed Yong's new book on animal senses speaks of his exceptional gifts as a storyteller, although it may also say something sad about me. I marveled at those details because I thought they were strange; but as it turns out, if I try to expand my perspective a bit, they're not that weird after all… Yong offers these facts in a generous spirit, clearly aware that part of what will captivate readers is too discovering how few of these facts facts many of us have known… Yong's book is funny and elegantly written, gracefully subdued when it comes to jargon… If there's any benefit to trying to empathize with others' experiences, it's perhaps in the enormous difficulty of doing so; the limits of the sensory bubble of each species should serve as a reminder that each of us can only buy a piece of reality."
– Jennifer Szalai †The New York Times†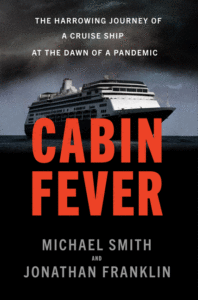 2. Cabin Fever: A Cruise Ship's Harrowing Journey at the Beginning of a Pandemic by Michael Smith and Jonathan Franklin
(double day)
2 Rave • 4 Positive
Read an excerpt cabin fever here
"The best non-fiction, in my opinion, reads like a novel. It is full of captivating characters and takes you to a place you would never experience otherwise. It tells a story that grabs you by the throat and won't let you stop reading. cabin fever falls into that category, with terrifying similarities to other narrative non-fiction that I couldn't put down… As the people at the heart of the story talk about their fear and coping strategies during the worst of their incarceration in small huts (some with no windows) ), I would have liked more reflection from them on how they survived the claustrophobic experience… But the book does what it's supposed to do as a true page turner. Smith, who de Zaandamthe journey for Bloomberg Business Weekand South American journalist Franklin did a masterful job of detailing what happened, what went wrong, and how it all ended."
—Laura McCallum †The Star Tribune†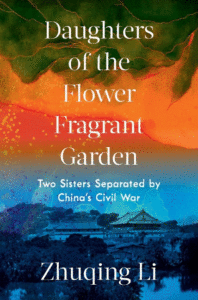 3. Daughters of the Flower Fragrant Garden: Two Sisters Separated by the Chinese Civil War by Zhuqing Li
(WW Norton & Company)
2 Rave • 3 Positive
Read an essay by Zhuqing Li . here
"… riveting… As Jun struggles to survive in Jinmen, Hong suffers the most, and it is her struggle that drives this compelling book… Li wisely fades into the background as she winds down these stories, popping up every now and then to provide personal context offer. But her love for her aunts warms every page. If this exceptional book has a flaw, it's this: Li presents the sisters as near-saints, who often struggle to justify every seemingly morally ambiguous choice they make… But what choices! Li unpacks the decisions they made to survive, explaining how those decisions drew them to the ideologies of their governments… By juxtaposing the stories of her aunts, Li asks the reader two equally compelling questions: Will the sisters ever be reunited? And if so, will they still know each other? …no history of Taiwan-China relations, but by telling this poignant story of one family divided by the "bamboo curtain," Li sheds light on how Taiwan came to be—and why China would one day risk everything to make it to take.
–Deirdre Mask †The New York Times Book Review†